One of the most important aspects of tree care in Toronto, ON is regular pruning and tree branch removal.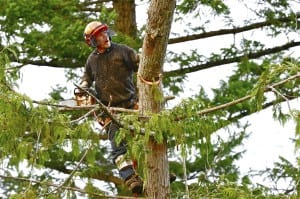 Here in Toronto, we experience warm and pleasant temperatures throughout much of the summer. As the weather turns warm, you are probably more likely to be outside as much as possible, having friends over and barbecuing and relaxing as the sun goes down. Before the summer months arrive, be sure your landscaping is ready for the change. At Hudson Tree Services, we are available to provide many different tree care services for customers in the Toronto, Ontario area. One of the most important aspects of tree care is regular pruning and tree branch removal.
Our knowledgeable and experienced tree care technicians will come to your property regularly for pruning and other services. As the seasons change, the needs of your plant life will also shift, and we are well aware of these needs. When winter is on the horizon, we will perform different tasks than we do to prepare the trees for warmer weather and sunshine. If your trees have heavy, overgrown, or have dead branches, they can become liabilities for dangerous and hazardous situations on your property. This is when we will perform tree branch removal, which will improve the appearance and health of the tree.
We work on all types of trees and shrubbery in the Toronto area, so contact us today to schedule a consultation. Without proper care, your trees may not look as nice as they could. This is where we come in– taking on the task of tree branch removal and care to improve your landscaping.
---
Hudson Tree Services offers reliable Tree Branch Removal Services in Toronto, Oakville, Burlington, East York, Etobicoke, and Hamilton, ON!