Tree stump grinding is the best way to remove unsightly stumps and create the ideal landscaping in Hamilton.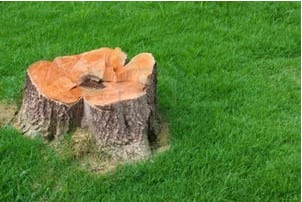 The best way to remove the remnants of a tree after it has reached the end of its lifespan is to request tree stump grinding from a tree care specialist. Whether you have cut the tree down due to disease or irreparable storm damage, tree stump grinding can remove unsightly stumps and create the ideal landscaping where the tree once stood.
Trees have a complex root system which develops over the lifetime of the tree. Pulling out a tree stump can pose a difficult challenge because of the mass of the tree and its underground root system. Tree stump grinding offers the ideal solution because the stump can be reduced below ground level, after which a new tree can be planted or soil, grass seed or sod can be added. Working with us at Hudson Tree Services will ensure that you only have to deal with stubborn tree stumps once and the end result will be a more enjoyable outdoor space.
At Hudson Tree Services, we have years of experience providing our customers in Hamilton, Ontario with the expert tree care solutions they need. From tree stump grinding to tree branch removal and storm damage cleanup, you can rely on us to complete the work well and ensure that you achieve the best possible results from your outdoor space.
Contact us today to learn more about tree stump grinding and our other excellent tree care services for your property.
---
At Hudson Tree Services, we offer tree stump grinding services in Etobicoke, Toronto, Mississauga, Oakville, Burlington, Hamilton, Ancaster, and Milton, Ontario.