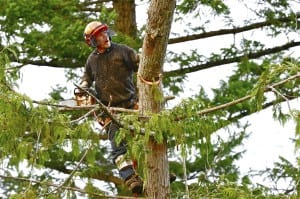 If you have trees on your property in Toronto, ON, then you are probably aware that they require different care than other landscaping items do. Most people look for an arborist, however, only when special treatment is needed. The reality is that if you want your trees to look their best, continue to be healthy, and live a long life, you should consider what services an arborist could do for you at any time.
An arborist is someone who specializes in tree care and thus has become skilled and knowledgeable about the different species and what they require. As such, they are qualified to provide a variety of services, including tree identification, deep root fertilization, pruning, planting and transplanting. They can also provide you with a full arborist report about the trees on your property.
If you are looking for a professional arborist for these specialized tree services, give us a call at Hudson Tree Services in North York, ON. We can have an arborist assess your trees and provide a detailed report about what care is needed to keep them healthy, such as pruning or deep root fertilization.
We are a full-service tree company, providing arborist services as well as tree removal and stump grinding services. One of our specialties is preparing your trees for the winter by pruning them, so they can withstand ice storms and harsh winter weather. We can also remove any trees that would be unlikely to survive the winter and could thus have the potential to cause damage to structures and pose a threat to your family. Give us a call today for a quote on any of our arborist services.