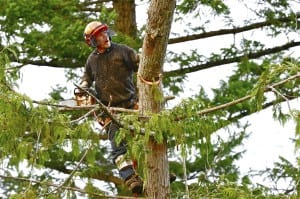 If you are a resident of Toronto, ON and you want to remove a tree, you may be required to have an arborist report compiled before being able to obtain a tree removal permit, but there are other reasons why it can be a good idea.
Besides conforming to a city by-law, you may want an arborist report to let you know the health of the trees on your property and if any of them pose as a danger to you, your family or even or neighbours. You may also want to know what species of trees you have and get advice on how to keep them healthy.
There are a number of sections involved in an arborist report that could be of interest to you, even if you aren't planning to remove a tree.
Diagram – An arborist report will include a diagram of your property, showing where all the trees are located and giving the tree protection zone for each
Tree Inventory – The report will also include an inventory of the trees found on your property. This inventory report will include the species name, the diameter of the tree and the condition of the tree. The condition section will describe the health of the tree and outline the course of action intended, whether that is to remove the tree or preserve it.
Tree Preservation Methodology – For those trees that are to be preserved, your arborist report will include a plan of action for doing so. Recommendations might include deep root fertilization, light pruning, or more involved pruning, for example.
If you require or desire an arborist report, give us a call at Hudson Tree Services. We can also handle all your tree service needs in Toronto, ON, including pruning, removal, stump grinding, planting and transplanting.