Hiring an arborist in Toronto to take care of your trees is always a good idea.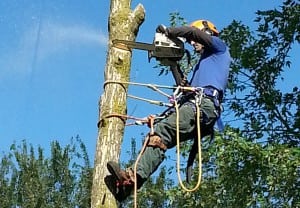 If you have trees on your property, you've likely considered whether you should use an arborist for their care. Here's why we think hiring an arborist is a great idea.
Trees add considerable value to the look of your home or property. They are a significant part of the landscaping and outside design. Unlike most interior decor, trees are living, breathing organisms that require attention and work to maintain. It takes many years for a tiny sapling to grow into the large and beautiful tree that is so attractive to onlookers. An arborist is the perfect ally to keep your trees healthy. Arborists are trained in the care of individual trees and will know the needs of your tree to keep it looking great.
Our professional arborists in Toronto are trained in pruning and deep root fertilization. Pruning a tree is necessary to improve the health, safety, and appearance of your tree. Since pruning involves cutting off tree limbs, it is dangerous work, so it's important to hire an arborist who is competent and experienced at their job. Deep root fertilization is also important for the health of your tree. A tree must have good soil and a good foundation to stay around for a long time. An arborist is the person to consult about these important decisions regarding your trees.
In addition to these services, our arborists can help younger trees to grow and develop a stronger structure through treatments and pruning, remove any dead limbs that are interfering with the tree's ability to grow, and eliminate any excess weight at the ends of the branches to avoid sagging and cracking. If you're looking to add some additional trees to your property, we can help you determine where to plant them and what types of trees will thrive in specific areas of the yard. When trees have grown in strange shapes, our pruning services can restore the shape that allows the tree to thrive while looking more visually appealing.
Trying to tackle any of these tasks yourself can be dangerous, especially if you don't have experience with proper tree care. Trimming or pruning a tree could cause damage to the limbs if you do so at the wrong time of year, leaving the trunk or branches exposed to harsh conditions. If you try to remove a tree, you could get injured or leave parts of the tree behind that will take up valuable space on your property. Our arborists know how to care for, remove, and plant trees, so we can make sure that everything is handled properly. We also provide emergency service, such as following a big storm that has caused damage to one of your trees or broken a limb.
If you care about the health of your trees and the look of your property, now is the time to find an arborist to work with. If you live in the Toronto, Ontario area, give us a call at Hudson Tree Services for any of your arborist needs.
---
At Hudson Tree Services, our arborists proudly serve Etobicoke, Toronto, Mississauga, Oakville, Burlington, Hamilton, Ancaster, and Milton, Ontario.