An arborist can help you keep your trees strong, healthy, and beautiful.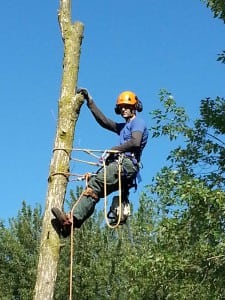 Having beautiful trees in your yard enhances your property throughout the year, but at the same time, your trees still require a little bit of work. Rather than taking on the task of tree care on your own, leave keeping your property safe and your trees healthy year after year to an arborist.
There are several reasons why turning to an arborist for your tree care needs in Oakville, Ontario is essential. First and foremost, when your trees are maintained properly, the value and aesthetic appeal of your property can be elevated. An arborist will also understand how to care for trees that have suffered damaged or require pruning, so they continue to provide longevity. Always look for an arborist who is highly trained and certified to ensure your trees receive the best care possible.
Whether you have three or thirty trees in your yard, at Hudson Tree Services, we are here to help you take care of them throughout the year. Insured, trained, and certified, our team is highly knowledgeable about basic and comprehensive tree care, and we offer year-round tree care options, including winter tree care, stump removal, insect and disease control, and deep root fertilization. When you need an arborist, you can rest easy knowing you've chosen the right team for the job at hand.
We would be happy to answer any questions you have about caring for your trees. To speak with an arborist, please contact us at Hudson Tree Services today!
---
Hudson Tree Services offers expert Arborists in North York, Toronto, East York, Oakville, Etobicoke, Burlington, Markham, Mississauga, Milton, and Hamilton, ON!