When hiring an arborist in North York, ON, you need someone who is professionally certified and recognized, in addition to being properly insured.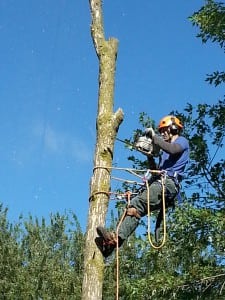 An arborist is a professional who is educated in the study, care, and maintenance of trees, shrubs and vines. Hiring a certified and insured arborist is a worthy investment for your property. A property with well-cared-for trees and shrubs is visually attractive and can add significant value to your home. A property where trees have been neglected can be seen as a huge liability as far as the safety of any structures and people are concerned. The condition and care of large trees is often of concern to home insurance adjusters and neighbors. Hiring a professional arborist is not to be taken lightly. You will want to hire an arborist who is professionally certified and recognized, in addition to being properly insured.
If you are looking for a professionally certified arborist in the North York, ON area, then look no further than to us at Hudson Tree Services. We offer a long list of arborist tasks, including:
•  Tree Removal
•  Tree Trimming
•  Deep Root Fertilization
•  Stump Removal
•  Tree Pruning
•  Winter Tree Care
•  Live Line Clearing
•  Insect and Disease Control
•  Tree and Shrub Planting
When it comes to the trees and shrubs on your property, our professional arborist can consult on everything from removal to planting and maintenance. We have an expert tree and shrub planting service. Our professional arborist can advise on the type of tree or shrub that will best suit your property and lend the foresight to ensure that your new trees get the best start possible.
Whether it's a windy summer, an icy winter, or you have a need for some aesthetic pruning, our team at Hudson Tree Services can help you manage all of your tree needs. Having healthy trees is both beneficial to your property and the safety of your family and home.
---
At Hudson Tree Services, our arborists proudly serve North York, Vaughan, Etobicoke, Toronto, Mississauga, Oakville, Burlington, Hamilton, Ancaster, and Milton, Ontario.